This week my daughter discovered that her pocket money had lost its value. You see, my wonderful girl is very good at saving, but likes to save her money in different pots, and when she checked her money for old £1 coins ahead of the deadline, she missed one out.
It isn't particularly remarkable as a coin. It is scratched and worn from its 16 years of circulation, 16 years of being rattled around in pockets and purses, rung through tills, slotted into machines, dropped into piggybanks. Like all legal tender it bears an image of the Queen's face, and a 'tail' on the reverse. What may be remarkable is that it isn't one of the many fakes that became part of our financial system.
Some coins it seems are more valuable than others. I checked this one out on-line and the 2001 Celtic Cross is one of the rarer coins. It isn't in mint condition by any means, but a bright shiny one is going for 40 x its face-value on ebay, and even one as battered as my daughter's could fetch double its original spending power.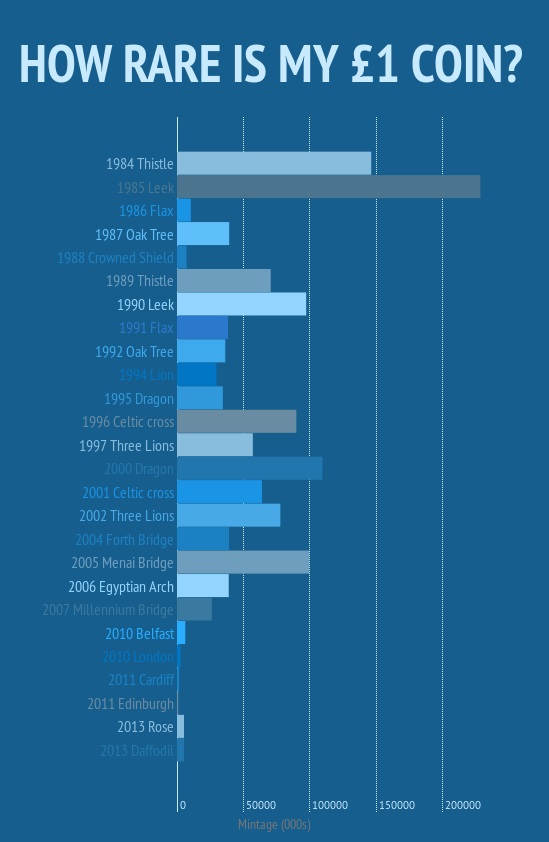 In today's gospel, Jesus asks to check out a Roman coin. It wouldn't have been a rare coin, a denarius was common tender – it was the daily wage of a labourer or soldier – and as we would expect of a Roman coin,  it bore the image of Caesar.
Upon looking at the coin, Jesus declares that it belongs to the one whose image and title it bears, and he does this in response to a question asked by the Pharisees and the Herodians. Now the fact that these two groups were joining together to ask a question of Jesus was rather suspect; normally they would have little to do with each other, Pharisees avoided pagans and politicians as much as possible, Herodians were supporters of the puppet king who relied upon his relationship with Rome for any status. The religious leaders would hold fast to the commandment to have no other Gods than YHWH and to make 'no graven images'. The coin now in Jesus' hand bore a graven image and the legend 'son of god'. The item in his hand was certainly not kosher.
The question asked of him, though, is not whether he should be handling such money, but how it should be used. Margaret Thatcher was not the first to introduce a Poll Tax. The tax at the end of the 1980s was deeply unpopular and was the cause of much protest, and perhaps even the end of Thatcher's 'reign'. Protests included parades and banners, slogans and button badges and 'little old ladies' going to prison instead of paying what they believed to be unfair taxes.
If Jesus said that Jewish people should not pay the Roman Poll Tax he would be causing an uproar. The Herodians would have every reason to arrest Jesus. However, if Jesus said that Roman taxes should be paid, not only would he potentially lose his good standing with the ordinary people who struggled to pay these taxes – he would be seen as siding with the Romans.
What Jesus does is turn the question on its head. Jesus looks as the coin  and then asks what seems to be something rather simple: whose head is on the coin? Or, we could say, what value is the coin? Not just the surface value of a denarius, but the value of roads, defence, legal systems. If these are elements of life that you value, then of course you need to pay for them. However, these are only the things of earthly life. What the Pharisees should be more concerned about is the value of heaven.
Read it here.
Just as the coin has been made with the image of a 'god', all humans have been made in the image of the living God. Each of us has the imprint of Jesus, in essence each of us is a child of God, and if we choose to follow Jesus we take on his name too, 'Christians'. We, then, become the coins that should be paid to God, just as the denarius is paid to Caesar for the good things of his realm.
We can quibble about taxes and whether they are fair or not, and we can be concerned about how those taxes are spent. That is our right as citizens of this land, but we should be more concerned about being citizens of God's kingdom. Our actions and energies need to  be devoted to God's reign of mercy and justice and love for everyone made in his image. The Pharisees, it seems, have lost that understanding of what it means to be God's chosen people, and Jesus reminds them. They had tried to trap Jesus, but Jesus is the one who holds the keys to freedom and liberation, and once more he walks clear.
So how are we to view this conundrum today? Each year I have to file a tax return. After over a decade of doing so I am now able to do so without bursting into tears, but I always find it stressful. Each year I simply follow the instructions and do the sums, send it off and hope for the best – hope that I don't owe anything. There is part of me however which hopes for a tax rebate – perhaps I have over paid, or forgotten to offset something against my final bill. I am sure I am not the only one to do this! However, although I may hope for a reduction in tax paid, I never ever want to see a reduction in the service I get from the NHS, or other tax funded service providers.
Do I treat my relationship with God in this way too? If I go to church on Sunday can I offset that against being nice to people for the rest of the week? If I go to church at Christmas and Easter does that release me to have a lie in every other Sunday? If I make an annual donation, or help with the flowers at harvest does that put me in the clear for the rest of the year, will that ensure that the church is still there for me when I want it?
God wants all of us. Not just the dour faced, Sunday best, twice a year version. Jesus came to earth to live an earthly life in relationship with humanity – a normal, earthy relationship, not a highly polished one for high days and holy days. This is his desire. Is it our desire also? To be in his presence, to learn from him, listen to him, spend our lives walking alongside him and working for his Kingdom to become fully present in this kingdom?
This is the question Jesus is asking the Herodians and the Pharisees: what is it that they truly value, and how will they live their lives accordingly?
Something to watch:
Something to think about:
Have you ever received a tax rebate (in real life or in Monopoly) and how did it make you feel?
How do you think Christians should respond to unpopular taxes?
Do you have any memories of the Poll Tax/Community Charge of the late 1980s?
What would you say are the most controversial taxes of today, and how do we view them in a Christian light?
What do we view as our 'taxes' to God's Kingdom?
How can we 'pay our dues' with joy rather than the dread of a tax return?
Something to pray: